In the world of SaaS, there is an overwhelming number of pricing models available, that it's almost impossible to know where to start. Being the founder of a SaaS marketing firm, I've marketed or implemented almost every type of pricing model there is. However, the one pricing model that is beyond the best, is something I like to call "Benchmark Freemium." According to Hubspot, the freemium pricing model, a combination of free and premium, is "a two-tiered user acquisition model that splits users into either a free tier or a premium tier depending on whether or not they pay for an account." But there is a twist to Benchmark Freemium: your software or service is free until you've hit a designated benchmark.
Have you ever heard of Slack?
I'll give you an example. Slack, a cloud-based messaging software for companies and organizations, has one of the most brilliant pricing models I've ever seen. Slack offers its software for free, all features included. That is until you reach 10,000 messages. 10,000 messages sounds like a lot, but is it? Slack carefully decided on this benchmark, because when you hit 10,000 messages on Slack, you're already hooked. You've seen the value. You've adapted Slack into your day-to-day processes and most likely, you can't go back to your pre-Slack office days.
The biggest advantage of using the Benchmark Freemium pricing model is that once your customer hits the benchmark, it's almost guaranteed that the customer has already adopted your software into their systems. The conversion rate of trial users becoming paying users is almost always north of 90%. However, in order to attain this kind of success, you must choose your benchmark wisely.
One rule with SaaS pricing models: Never set your benchmark on a timeline.
Believe me, everybody is over the two-week trial periods. Instead, follow Slack's example and set your benchmark on usage. Trial and test to see what is the right amount of usage before you start. If you set that benchmark too low, your users may have not used the software enough to convert the user. If you set that benchmark too high, you could potentially be losing money by not acquiring that paid user sooner.
Need help setting your benchmark for the Benchmark Freemium pricing model? Get a full understanding of your usage numbers with a pricing model expert.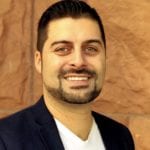 J.C. Granger is the CEO of Infinity Marketing Group. Infinity Marketing Group is an inbound marketing agency headquartered in Denver, Colorado that specializes in helping SaaS companies achieve their lead generation goals.
Connect with J.C. on LinkedIn and download his free eBook, "3 Essentials of Inbound Marketing".