In my previous post, I talked about the number one lie that I've heard regarding SEO, and that's the "promise" that you'll be in the number one spot in a Google search. Although it's one of the biggest lies out there, it's also not the only lie. Here's another lie- it's tough to improve your search engine results without hiring a professional.
I'm sure right there you said, wait a minute Jason, what the hell? "Aren't you in the marketing business and don't you own a marketing agency?"
Why would you have even started a company, and why is professional SEO such a massive industry if it wasn't complicated and downright something only a trained professional can do?
First, I'm not going to lie to you. Improving your search rankings, in general, is a pretty simple thing to do. There are specific things that Google places a lot of weight on when it's determining search rankings for websites. Things like relevancy, backlinks, the format of your website,  and the overall authority that it has compared to others in your industry.
Sure, people specialize in things because this allows them to train their minds to figure out all of those I mentioned, efficiently prioritize them, and then roll them out. It does take a lot of hands-on experience to understand how to go about the process in the most efficient and "graceful way". Most business owners don't have the bandwidth to do that.
But what you do have the bandwidth to do is make your website as relevant,  and authoritative as possible, which right there is one of the biggest things that an SEO makeover does. So you've already done a lot of the hard work.
SEO Takes Time
I'm not going to lie- SEO takes a lot of time. By a lot of time, I'm not just talking about it taking a few months or a year. SEO takes a lot of work over the lifetime of your website/business. SEO is ever-evolving. To be on top of it means keeping track of constant updates, managing and building your own content, making technical improvements, having a consistent backlink outreach strategy, and a host of other things.
So SEO is hard, but it's not super complicated (at least not until you get into the extremely small details).  It's no joke, it takes a lot of work, and it does need a dedicated person being a taskmaster for it. So if you don't know how to manage your time and effort on SEO best, you'll end up wasting both.
That's where an SEO expert comes in. An expert can tell you where your strategy needs to focus its energy and what's going to get the most return on your investment because they've done it before and it's what they eat and breathe.
In short, SEO isn't all that complicated per se, but not complicated doesn't mean it's easy.
So if you're not ranking high on Google search results and you want to benefit from all that free organic traffic, shoot us an email at info@infinitymgroup.com or message me on LinkedIn.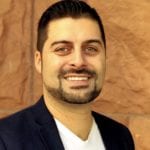 J.C. Granger is the CEO of Infinity Marketing Group. Infinity Marketing Group is an inbound marketing agency headquartered in Denver, Colorado that specializes in helping SaaS companies achieve their lead generation goals.
Connect with J.C. on LinkedIn and download his free eBook, "3 Essentials of Inbound Marketing".