Have you ever talked about a product, but never searched for it online, then later received an ad for it?  There's a reason for that. According to Evergage.com, 92% of marketers are using your personal information to customize their marketing strategies according to your behaviors and preferences. With help from Google Analytics and CRM platforms, marketers can easily identify key insights about their customer database. Everything from age and location to the products and services you book online is being recorded to provide customers with the ultimate personalized experience.
You might be thinking: "I already know this." For years, marketers have used attainable information of their customers to target them with emails, social media ads, and website landing pages. But in 2019, marketers are using this information and more in ways that have never been done before, to provide their customers with unique and tailored online campaigns. Read below to find out how marketing personalization is changing the way brands are connecting to their customers online.
AI-Driven Personalization
In the Digital Age, computers may be decreasing in size, but their power and popularity are increasing at a rapid rate. Good-bye to the days of marketers segmenting email lists by hand and adding personal touches to content themselves. Now, machines comb through their customer database and implement AI-featured algorithms to find the best techniques to segment and personalize their database.
In 2019, we can expect to see much more personalized product recommendations, individualized incentive programs, predictive content modeling and automation in marketing strategies and advertising campaigns. Companies can stay ahead of this trend by investing in AI technology solutions in email marketing, chatbots, and programmatic advertising.
Voice-Activated Searches
With Amazon's Alexa to the Google Home and now even Facebook's Portal, virtual assistants are popping up in homes everywhere. According to TechCrunch.com, 2018 reached an all-time high, with close to 41 percent of U.S. consumers now owning one, up 54 percent from 2017 alone. The cloud-based smart speakers are being used for music, online searches, streaming videos, and even playing Jeopardy.  And if you're ever wondering if these machines are listening to you, you might not be wrong. While the machines start listening based on "trigger words", they are still recording your requests and conversations once "triggered."
So what does this mean for marketing? Marketers are making their products and services easier to search, buy, or use with voice-activated commands. They're using this information to help create a language that you use and to make the most engaging experiences possible on voice-activated smart speakers. Although these smart speakers do not run paid advertising now, brands have found ways to ensure their brand is mentioned first in specific searches. With voice-activated marketing not going away any time soon, it is important that brands start looking into how to optimize their brand with smart-device speakers.
Facial Recognition Marketing
The new facial recognition capabilities of the latest smartphones are putting customers front and center in marketing campaigns. With the growing popularity of facial mapping and augmented reality features, marketers are now testing and creating immersive marketing experiences for their customers. For example, cosmetic companies like Sephora and Orly are releasing apps that give their users virtual makeovers with their products and Nike launched a campaign that allowed users to control the movement of virtual shoes with their facial expressions.
Not only do facial recognition features allow marketers to experiment with more innovative campaigns, but these features are providing tons of insight into their customers. Mood detection and facial expressions can provide data on how the customer reacts to products or campaigns, which can be applied to more customized advertisements that will perfectly fit the emotions, interests, and preferences of their audience.
With all of the new and innovative trends in data personalization, 2019 is expected to have some killer campaigns that will feature voice, facial recognition and more. To keep up with customer expectations, brands need to look into campaigns that are providing more intimate and personalized online experiences. How are you going to stand out with your marketing campaigns in 2019?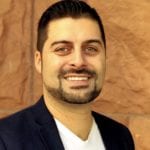 J.C. Granger is the CEO of Infinity Marketing Group. Infinity Marketing Group is an inbound marketing agency headquartered in Denver, Colorado that specializes in helping SaaS companies achieve their lead generation goals.
Connect with J.C. on LinkedIn and download his free eBook, "3 Essentials of Inbound Marketing".