As with any kind of relationship, communication and teamwork are the major keys to success. In the world of sales and marketing, this is no exception.  Historically, the two teams did not work well together despite sharing the same goal, which is to drive revenue. However, through the ups and downs of their sometimes combative and competitive relationship, sales and marketing can now work together successfully if they follow the four major rules of "Smarketing."
According to Hubspot, the term Smarketing is "the alignment between your sales and marketing teams created through frequent and direct communication." With the ever-changing landscape of digital tools and enhancements, it's time that SaaS companies begin to embrace the concept of Smarketing in order to generate the strongest results.
Here are four rules of Smarketing guaranteed to strengthen the relationship between sales and marketing for your SaaS company.
1) Communication is Key
Life and relationship coach Tony Robbins, states that communication in relationships, at its core, is about connecting and using your verbal, written and physical skills to fulfill your partner's needs. This definition remains the same in Smarketing. In Smarketing, communicating between the two teams will create an equal playing field, provide more visibility into results, allow for clear insights into operational systems, and will continually refine the processes of sales and marketing.
To maintain open communication, start to implement monthly Smarketing meetings.
2) Share a Common Message and Goal
Successful partners should always be speaking the same language in relationships. Regardless of how different sales and marketing teams may operate, they should learn to get on the same page as well. Whether this applies to the key messages of your products and services, the end goal of your business strategies, or both, it is critical that both teams are aware of the defined messages and goals. Being in agreement with these core pieces will allow each team to support the others' efforts.
Additionally, defining the shared message and goal will ensure no overlap in work and key functions. Constant communication between the two teams will lead to the utmost productivity and efficiencies in producing strategies and uncovering results.
3) Implement Open Data
Like most relationships, open and honest communication is essential. Similar to sharing the common message and goal, Sales and Marketing must be sharing their data and results as well. Understanding the key metrics and results of both team's efforts will allow the teams to make adjustments to their strategies if needed and ultimately help drive success for your SaaS company.
For example, when the sales team shares the number of monthly sales and their sources, the marketing team can leverage this information to identify channels and audiences for lead generation campaigns. On the flip side, if Marketing shares geographical data based on engagement from social, the sales team can narrow down their strategies in the most popular locations.
4) Celebrate Success Together
To build strong relationship morale, both Sales and Marketing should be celebrating each other's success hand-in-hand. Whether the conversions come from a highly defined digital campaign or a strong sales meeting, it is important to celebrate both wins from both teams. Management can help facilitate shared celebrations and jumpstarting organizational alignment through defining compensation based on shared marketing and sales goals.
When these rules are followed and encouraged by both teams and management, your SaaS business will begin to thrive. According to a study by Aberdeen Group, companies that utilize Smarketing strategies in their goals see a 65% increase in top-line revenue over those who don't. With that number alone, why wouldn't you consider Smarketing for your SaaS company?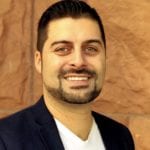 J.C. Granger is the CEO of Infinity Marketing Group. Infinity Marketing Group is an inbound marketing agency headquartered in Denver, Colorado that specializes in helping SaaS companies achieve their lead generation goals.
Connect with J.C. on LinkedIn and download his free eBook, "3 Essentials of Inbound Marketing".