My father once told me to "find a good mechanic and a good woman and keep them both forever." This can easily be applied to software and technology as well. Since starting my small business, I've constantly been on the search for software that will make my life easier and can help me solve problems for my business, that won't drown my wallet. Read below for the three software small businesses should absolutely be using.
Online Training Systems: When you're a small business owner, you hit the gender-neutral glass ceiling of how much you do in 24 hours fast. And the last thing you want to spend time on is onboarding and training new employees. That's why I use the automated training software, Trainual.
This is the ultimate training and onboarding tool and has been a complete game-changer for my company. Trainual allows me to add a new employee, assign them training processes (whether it is for internal processes or client communication) then alerts me when they are done. The best part? My employees aren't training as they go anymore, they are trained before they go.
Project Management Tools: Project management software is some of the best money you can spend as a small business owner. I use Basecamp3. What sets Basecamp3 apart from other project management tools, is that it allows me to work with clients and my team – all on the record in one place — with fewer emails, meetings, and busy-work.
So, let me explain.
When not using project management software, it is more likely something is going to fall through the cracks. Whether someone doesn't hit reply all on an email or a task goes unfulfilled for a client, the client isn't going to be happy. When a client isn't happy, the client cancels. When the client cancels, you lose money. Using a project management tool like Basecamp3 saves you from making small mistakes with the internal and external communication features – and ultimately saves you money, headaches, and stress from keeping everything on your email.
Online Billing Systems: One of the most important decisions you can make as a small business owner is what kind of invoice and billing system you implement. Starting out, I did tons of research and found that most billing systems, from PayPal to QuickBooks, charge the same 3% fee for every transaction.
That fee may not sound like a lot but do the math after a full year and you will feel your pockets start to burn a bit. Instead of using a system charging up to 3% for transactional fees, I use ChargeOver.com. ChargeOver.com allows users to import your own merchant processing system and has an easy-to-use automated billing feature. So now, I am paying only 1.5% for everything transaction. My advice: do your research on online billing systems. It could save you a lot more money to put towards your marketing funds or office space, or maybe even just more happy hours during the week!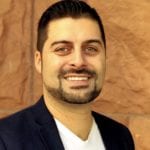 J.C. Granger is the CEO of Infinity Marketing Group. Infinity Marketing Group is an inbound marketing agency headquartered in Denver, Colorado that specializes in helping SaaS companies achieve their lead generation goals.
Connect with J.C. on LinkedIn and download his free eBook, "3 Essentials of Inbound Marketing".