I've been talking about the truth (and lies) software companies tell about SEO. There are three things we've already discussed-page ranking, the "complicated" label that SEO has and the role Social Media plays in your rankings. These lies are one of the reasons people bounce from SEO strategy to SEO strategy. It's also why companies spend a lot of money in the wrong places of their SEO plan. 
It's also important to know that it's not all about the keywords.
You read that correctly, keywords are just part of your strategy when it comes to your SEO strategy. 
Keywords were the main focus of SEO for a long time. You had to have the right keywords placed on the right pages if you wanted to be seen, and that was about it. People shoved tons of keywords into every sentence they could. Here's the thing- search engines get smarter and more complex every few months. Your keyword strategy should be reviewed every few months so that you can make adjustments and stay relevant.  
Google takes around 200 factors into account when they determine rankings for websites. Keywords are still important, but there's a lot more that goes into it than just making sure you use the word "dog" as many times as you can in your posts about dogs. 
If you want to get down to the nitty-gritty, you'll want to look at:
Your domain age

Your page titles

How H1 tags are used

Semantically related keywords

Page-loading speed

The recency of updates (to your site and content)

Outbound links
While we're at it, the reading level of your site, the layout of your site and a layout of your "Contact Us" page can affect your SEO rankings. 
So while keywords are an essential part of your SEO strategy, there are tons of other factors you need to take into account. It's the whole package they are looking at. So do your best to make that package the best it can be.
Asking about the different tactics that an SEO provider used to help you improve your rankings is really important. If they emphasize keyword density or other keyword-related practices, be a bit wary. They are not looking at the big SEO picture and they are not going to create a solid strategy. 
Power loading links isn't the answer either by the way
A while back, there was a huge focus on having a crap ton of inbound or outbound links- external or internal. It's not that this statement isn't wrong, it's that it's too general and highly misleading when it comes to getting you the results you need. The number of links is important, but what's more important, is where those links are coming from. I can link to a ton of sites all day long on my blog, but it's not going to get me a seat at the table when it comes to Google rankings. 
Backlinking is only going to help you when you link from "high-authority" websites like Mashable, TechCrunch, or Wired. That's because everyone is linking everything, so quality starts to emerge as the defining backlink. If Google thinks your page contains excellent information based on that link then that's a plus. If that information helps them to figure out exactly what your page is about, even better. 
So remember, that one link from a high-authority domain to your page could be the boost you are looking for, whereas tons of links from low-quality sites that are not providing any real value might not do anything. In fact, it could even hurt your rankings if you have those types of sites linked to yours, so be careful.
If an SEO expert tells you that you need tons of links, you now know that's not true. If "links" are their focus, they may engage in link buying or other strategies that are not so Google friendly. That can result in penalties, and you don't want that to happen. It should also be noted if it's really bad, Google will slap you hard and lower your rankings even more. So don't over link. 
Having links= OK
Having the right kind of links=Gold
So if you're not ranking high on Google search results and you want to benefit from having stronger backlinks and keyword strategies, shoot us an email at info@infinitymgroup.com or message me on LinkedIn.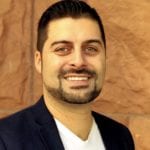 J.C. Granger is the CEO of Infinity Marketing Group. Infinity Marketing Group is an inbound marketing agency headquartered in Denver, Colorado that specializes in helping SaaS companies achieve their lead generation goals.
Connect with J.C. on LinkedIn and download his free eBook, "3 Essentials of Inbound Marketing".