Successful entrepreneurs have one thing in common: strong leadership skills. Mission Matters: World's Leading Entrepreneurs Reveal Their Top Tips To Success, co-authored by our CEO and author J.C. Granger and entrepreneur Adam Torres, explores leadership through the lens of a variety of industries.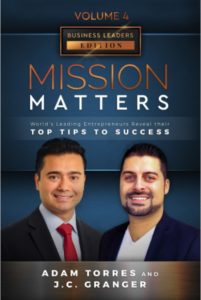 The Story Behind The Book
In March of 2020, J.C. appeared on the Mission Matters Marketing podcast, hosted by Adam. After a riveting conversation on "Doubling Down" and marketing priorities during COVID-19, Granger and Torres thought they'd make an excellent team. 
As co-authors, J.C. Granger and Adam Torres share their unique experiences and perspectives with readers. Additionally, 18 other professionals from numerous industries share their expertise, making this book a treasure trove of knowledge for all entrepreneurs. If you want to grow as a leader, this book is a must-have!
On Leadership: From Author J.C. Granger
Great leaders are formed through failure and success. Learning from those mistakes and wins is what creates great leaders. As business models, technology, and best practices change, leadership must evolve as well.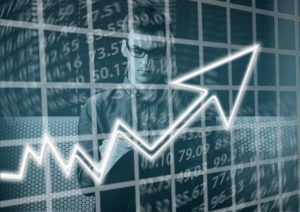 J.C. Granger, who has decades of marketing experience, has seen the concept and role of "leadership" change first-hand. In writing this book, Granger seeks to share his deep knowledge, passion, and help readers understand what makes a leader flourish. 
In addition to authoring the introduction, Granger has a special chapter on "Crisis Marketing." Of the chapter, he says, "I discuss how your business can survive and even thrive in the midst of any crisis […] if you change your mindset and think about it in a more child-like, simple, and logical manner, you can not only survive the war…you can win it unconditionally."
Only a few days after publication, readers are already finding the book useful. One review reads:
"I got at least one actionable idea from every single chapter by a different entrepreneur on a different topic. My ROI on the book purchase will be 1,000X!"
Mission Matters: World's Leading Entrepreneurs Reveal Their Top Tips To Success 
Ready to unlock your leadership skills, grow your business, and find tangible takeaways for business growth?
Through inspiring stories, you'll discover:
How patient care and technology meet in the medical field.
How digital transformation is imperative for companies.
What creating your dream retirement looks like.
How to create a result-driven culture in your company.
How to pivot your marketing to survive crisis situations.
Why cohesion is more important than engagement in an organization.
And much more!
No matter your industry or prior experience, this book contains critical ground-breaking knowledge that all entrepreneurs can utilize and implement.   
Author J.C. Granger says, "…remember, don't just consume the expertise in this book. Put it into action. Ideas are cheap – execution is everything."
Ready to Develop Your Leadership Skills? 
If you're ready to expand your knowledge and further develop critical leadership skills, it's time to put Mission Matters: World's Leading Entrepreneurs Reveal Their Top Tips To Success onto your bookshelf. Author J.C. Granger, Infinity Marketing Group's CEO, is here to help you reach new heights.